The COVID-19 pandemic has meant that I have had to introduce many new measures to ensure the safety of my patients and myself.
Listed below is an overview of what I have put in place, please take time to read this before coming for your appointment.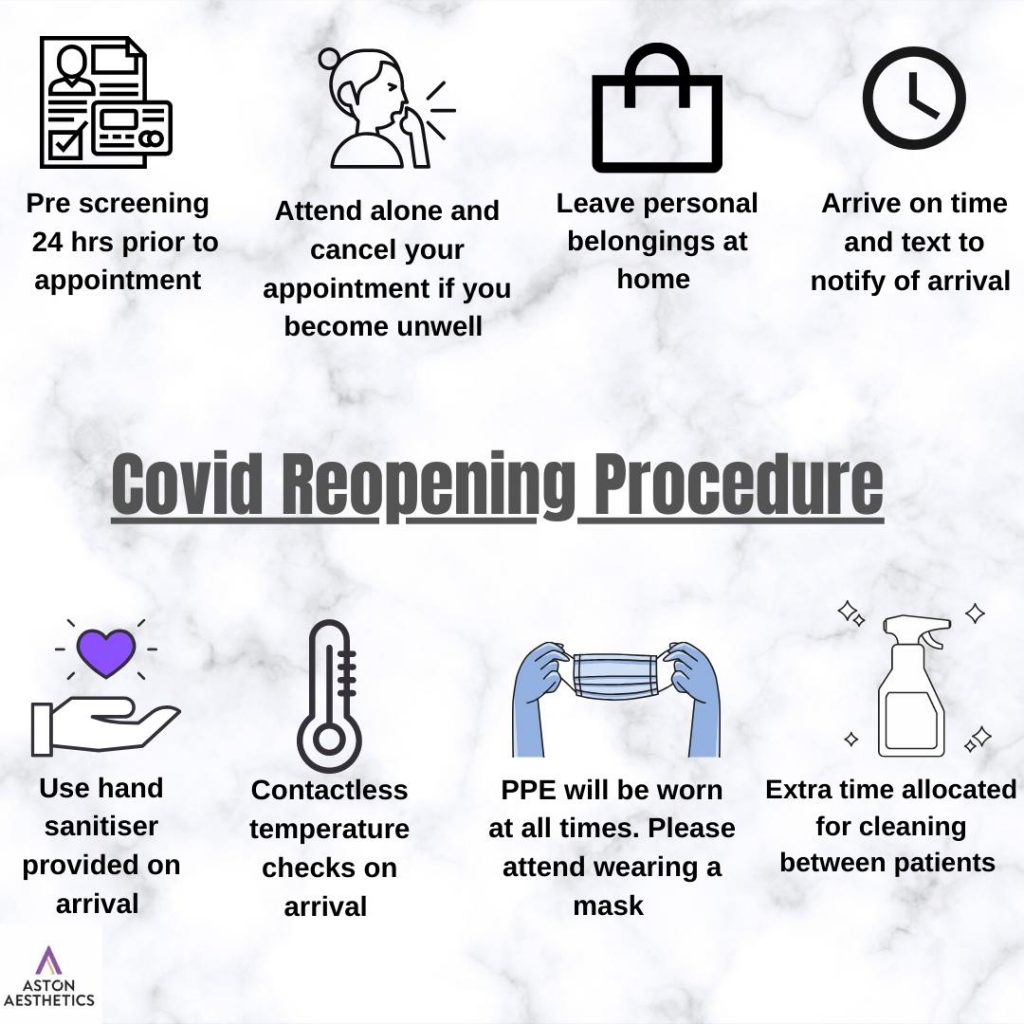 Consultations
For new patients I am now offering free video consultation to discuss your treatments thus minimising the need for you to visit the clinic. To arrange your free consultation just contact me using one of the methods on the website.
Pre-Screening
I have invested in new software which has made the treament process paperless and minimises contact at this stage.
This software will send you 2 forms via email, both of which are to be completed before your appointment. One of these forms is a specific COVID screening form. Please contact me if you need any help with these forms.
Clinic Layout & Cleaning
My clinic has been redesigned with new furniture to allow for faster and more effective deep cleaning. The clinic will be cleaned thoroughly with anti-bacterial/viral agents between every patient and at the end of every day.
The layout of the clinic is now designed for one patient only. Should you be looking to attend an appointment with another person then please make this clear so I can make provisions that conform to social distancing and hygiene rules.
The clinic also has excellent ventilation and a large window will be open throughout your appointment.
Appointment Times
Appointment times are now more important than ever due to the cleaning schedule that has to be adhered to between every patient.
Please make sure you arrive on time for your appointment.
Should you be early, please wait in your car until the correct time. On your arrival outside of the clinic please text to let me know you are ready. If you are running late for your appointment then please let me know as soon as possible via text message.
Appointment Arrival
On arrival at the clinic I will perform a contactless temperature check on you before entry. Your temperature will be logged for future reference.
You will then be asked to use the hand sanitiser station at the entrance and before entering the clinic.
Masks MUST be worn at all times. Should you not have a suitable mask then I can provide one for you free of charge.
All belongings including bags, coats and phones are to be left outside of the clinic door in the secure area provided.
PPE
Your safety is of of the utmost importance to me. I will now perform all treatments in appropriate PPE including a visor, mask, gloves and apron.
Thank you for your understanding and cooperation during these difficult times.  Stay safe, stay beautiful.